Peter Earley, Director
Peter previously worked for the Legal Services Commission for over twenty years. During this time he was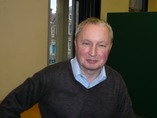 An elected trade union representative for twenty years

A member of the organisations Joint Consultative and Negotiating Committee for 15 years and

Served as elected national chair of the GMB trade union branch in the Commission for 10 years. 
During this time he worked on many national HR project teams and helped to introduce such innovations as flexible working, time term working, redundancy and disciplinary policies and trade union facilities agreement. He led the GMB's negotiating team in national pay negotiations and took part in the review and development of many HR policies. .He was seconded to the LSC's central HR team for 18 months working on various organisation restructures and redundancy rounds. 
Peter holds a Law Degree from Kent University 

A certificate of higher education in Trade Union and Labour studies from Northumbria University

He is currently in his final year of study for a Master's Degree in Human Resource Management and Development at the University of Northumbria.

He is a member of the Chartered Institute for Personnel Development.

Paul Hillier, Director
Paul has worked at a senior level for many years across the voluntary, public and private sectors.  Over the past two years Paul has been engaged as a Business Consultant working mostly with not-for-profit organisations in the advice sector and Legal Aid Solicitors.  He has a proven track record of building sustainable organisations by creating a framework and culture that maximises the potential of people, delivers effective performance management and viable business models.  Paul has achieved significant success in income generation, including tenders and commissioning, in both the private and third sectors.
Paul has recently completed a Certificate in Voluntary Sector Studies and has in depth knowledge of the third sector in the North East and national policy trends.  As a Charity Trustee and former Chief Executive he has first-hand experience of the pressures facing the third sector and the help and support required to operate as a good employer.  Paul has a thorough understanding of HR issues and dealing with the challenges and complexity of employment law in a day to day working environment. 
As an accredited and experienced trainer Paul has worked with many organisations to design and deliver training.  Content has ranged from managing people and performance to emotional intelligence and personal development.  Previous clients have included CABx, education professionals, Legal Aid Solicitors and Charity Trustees.  Paul focuses on developing the potential of people and organisations and he will work closely with you to identify need and create bespoke training solutions.